Pancreatic Cancer in Sydney
Serving Bella Vista, Campbelltown & Kogarah
What is Pancreatic Cancer?
Pancreatic cancer is when a tumour is formed in your pancreas. It is the result of the development abnormal cells that grow out of control.
What are the types of Pancreatic Cancer?
Cancers of the pancreas are commonly identified by the site of involvement within the pancreas. There are two types of cells in the pancreas:
exocrine cells
endocrine cells
These different cells also have different functions.
Exocrine Cells
More than 95% of pancreatic cancers are classified as exocrine tumours. These tumours start in the exocrine cells that make pancreatic enzymes that help in digestion. Within this category, the vast majority of tumours are adenocarcinomas. There are many other subtypes of pancreatic exocrine tumours.
Endocrine Cells
Pancreatic neuroendocrine tumours are either functional (produce hormones) or nonfunctional (produce no hormones). The majority of PNETs are nonfunctional tumours. Once again there are many other subtypes of pancreatic exocrine tumours.
Where Is Your Pancreas?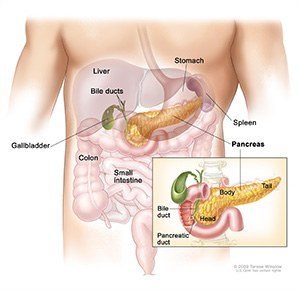 The pancreas is an organ that sits in the abdominal cavity behind the stomach.
What Does Your Pancreas Do?
The pancreas is part of both your digestive and endocrine system.
Digestive System Function
Involves the secretion of digestive enzymes that aid the digestion and absorption of nutrients in the small intestine.
Endocrine System Function
Involves the production of several hormones, such as insulin, glucagon, somatostatin and pancreatic polypeptide.
How Does Pancreatic Cancer Affect Your Body?
Any change to your digestive or hormonal functions can have serious impact on your body and life. Some common effects related to Pancreatic Cancer are:
General Malaise and Lack of Energy
Loss of appetite and Weight Loss
Elevated blood sugars and Diabetes
What Causes Pancreatic Cancer?
Despite the high mortality rate associated with pancreatic cancer, its causes are poorly understood. What is indicated by some statistical research is that tisk factors for development of pancreatic cancer include the following:
Family history of pancreatic cancer
Cigarette smoking
Obesity
Chronic pancreatitis
Symptoms Of Pancreatic Cancer
Pancreatic cancer symptoms depend on the site of the tumour within the pancreas and the degree of tumour involvement. In the early stages of pancreatic cancer there are not many noticeable symptoms. As the cancer grows, symptoms may include the following:
Jaundice.
Light-colored stools or dark urine.
Pain in the upper or middle abdomen and back.
Weight loss for no known reason
Loss of appetite.
Fatigue.
Pancreatic Cancer Stages
Pancreatic cancer is difficult to detect and diagnose for the following reasons:
There are no noticeable signs or symptoms in the early stages of pancreatic cancer.
The signs of pancreatic cancer, when present, are like the signs of many other illnesses, such as pancreatitis or an ulcer.
The pancreas is obscured by other organs in the abdomen and is difficult to visualize clearly on imaging tests.
To appropriately treat pancreatic cancer, it is crucial to evaluate whether the cancer can be resected.
Pancreatic Cancer Diagnosis
The use of imaging technology may aid in the diagnosis of pancreatic cancer and in the identification of patients with disease that is not amenable to resection. Imaging tests that may be used include the following:
Helical computed tomographic scan.
Magnetic resonance imaging scan.
Endoscopic ultrasound.
Minimally invasive techniques, such as laparoscopy and laparoscopic ultrasound may be used to decrease the use of laparotomy.
Peritoneal cytology
Some studies indicate a positive peritoneal cytology result is a positive predictor in determining unresectability.
Tumour markers
No tumour-specific markers exist for pancreatic cancer. Markers such as serum cancer antigen (CA) 19-9 have low specificity. Most patients with pancreatic cancer will have an elevated CA 19-9 at diagnosis. over time an increase of CA 19-9 levels may identify patients with progressive tumour growth. The presence of a normal CA 19-9, however, does not preclude recurrence.
Treatments For Pancreatic Cancer
Surgical approaches differ for masses in the head, body, tail, or uncinate process of the pancreas. Surgical resection is the mainstay treatment for Pancreatic Cancer. It provides a survival benefit in patients with small, localized pancreatic tumours. Patients with unresectable, metastatic, or recurrent disease are unlikely to benefit from surgical resection.
Alternative Treatments For Pancreatic Cancer
Pancreatic tumours are resistant to treatment with chemotherapy and radiation therapy. Patients with any stage of pancreatic cancer can be considered candidates for clinical trials because of the poor response to chemotherapy, radiation therapy
How Will My Life Change After Pancreatic Cancer Surgery?
For most patient Postoperative Care Plan are focused on palliative Care. Treatment for the reduction of symptoms may be achieved with various conventional therapies. Palliative measures that can improve quality of life while not affecting the overall survival rate include the following:
Surgical or radiologic biliary decompression.
Relief of gastric outlet obstruction.
Pain control.
Psychological care to address the potentially disabling psychological events associated with the diagnosis and treatment of pancreatic cancer.
Recovery Outcomes After Pancreatic Cancer Surgery
The primary factors that influence prognosis are:
Whether the tumour is localized and can be completely resected.
Whether the tumour has spread to lymph nodes or elsewhere.
Exocrine pancreatic cancer is rarely curable and has a poor overall survival rate. The highest cure rate occurs if the tumour is truly localized to the pancreas, however, this stage of disease accounts for less than 20% of cases. For patients with localized disease and small cancers (<2 cm) with no lymph node metastases and no extension beyond the capsule of the pancreas the post-operative survival rate improves. Where a complete surgical resection is successful a 5-year survival rate for one quarter of patients is possible.
Schedule A Consultation
Advanced Surgicare provides three weight loss clinic locations to serve you in Kogarah, Campbelltown and Bella Vista which allows a short trip for anyone seeking bariatric surgery services in Penrith, Camden, Blacktown, Castle Hill, Baulkham Hills, Hurstville, Rockdale, Miranda, Caringbah, Harrington Park, and Narellan. To schedule a consultation with Dr. Kuzinkovas, please contact Advanced Surgicare Clinic by calling 1300 551 533.