Gastric Sleeve Surgery in Sydney
Serving Sleeve Gastrectomy patients in Miranda, Rockdale Campbelltown, Kogarah, & Caringbah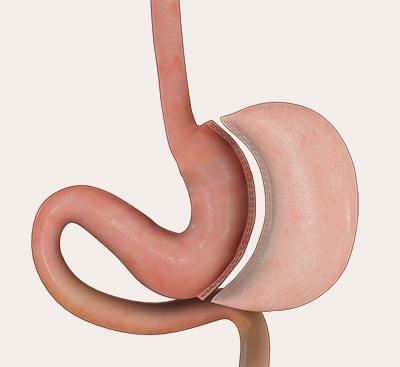 What is Gastric Sleeve Surgery?
Gastric sleeve surgery is a weight-loss procedure in which part of the stomach is removed in order to restrict the amount of food that a patient can consume. This process reduces ghrelin, a hormone that affects appetite, so patients are also less likely to feel hungry between meals. The gastric sleeve procedure, also known as a sleeve gastrectomy, is a viable alternative for patients who do not qualify for gastric bypass surgery.
Am I a Candidate for Sleeve Gastrectomy Surgery
Gastric sleeve surgery can be a suitable weight loss treatment for patients who are not eligible for other surgical procedures due to risk factors associated with a high BMI or other medical conditions, such as anemia. Patients can expect to eat smaller portions and have a reduced appetite following surgery leading to a steady loss of weight over time. By following the postoperative recommendations patients can expect to lose approximately 1 kilogram per week, until their body weight reaches a normal range.
Advantages of Gastric Sleeve Surgery
Gastric sleeve surgery has an number of advantages over other procedures:
Stomach openings and nerves remain intact and unaltered.
Digestion functions normally as the only change is to the size of the stomach.
The section of the stomach responsible for producing the appetite boosting hormone, ghrelin is removed,, which means you will be less hungry post-surgery.
Lower chance of complications such as ulcers and other risks associated with gastric bypasses and lap-band surgeries.
Generally the procedure for gastric sleeve surgery is laparoscopic, rather than open, meaning it is less invasive, scarring will be minimal, and recovery will be quicker.
As gastric sleeve surgery does not affect the digestive system, recovery times are slightly faster than in other procedures.
What is involved in Gastric Sleeve Surgery?
During the procedure the doctor will:
Make small incisions in the abdomen.
Insert specialised surgical tools, including a camera, through the incisions.
Remove the outer section of the stomach (which makes up 70-80 percent of the entire lining).
Use a specialised stapling device to close the sides of the stomach tube (or sleeve) which remains.
Preparing for Gastric Sleeve Surgery
Before your sleeve gastrectomy procedure, Sydney bariatric surgeon Dr. Kuzinkovas will run a series of tests to ensure that you are ready for surgery. Patients may need to lose weight, start exercise, or change their diet to prepare for the procedure.
Dr Kuzinkovas will go over the specific instructions for preoperative care, but generally patients will need to:
Go on a liquid diet a week or two before surgery.
Avoid eating after midnight, the day before surgery.
Ask a friend or family member to be at the hospital for support and comfort.
Patients may also want to purchase the foods, drinks, and medications they will require after surgery.
Gastric Sleeve Surgery Recovery Time
Following surgery patients will need to eat a liquid or pureed diet for the first four weeks, before progressing to soft foods for two weeks after that. Six weeks after surgery, patients should be able to resume eating normal foods.
Patients also need to a commit to healthy lifestyle as part of the recovery and weight loss process. This involves eating healthy foods and exercising regularly.
Gastric Sleeve Cost and Financing Options
There are a number of factors which may influence the final cost of surgery including hospital fees and and the price of medications. Dr Kuzinkovas will be able to provide a more detailed quote after consultation.
Patients can choose from a variety of payment options available depending on their financial circumstances and insurance status.
Schedule a Consultation
Advanced Surgicare provides three weight loss clinic locations to serve you in Kogarah, Campbelltown and Bella Vista which allows a short trip for anyone seeking bariatric surgery services in Penrith, Camden, Blacktown, Castle Hill, Baulkham Hills, Hurstville, Rockdale, Miranda, Caringbah, Harrington Park, and Narellan. To schedule a consultation with Dr. Kuzinkovas, please contact Advanced Surgicare Clinic by calling 1300 551 533.
Gastric Sleeve Resources
The following resources provide more information about gastric sleeve surgery: