Oesophageal Cancer in Sydney
Serving Bella Vista, Campbelltown & Kogarah
Anatomy Of The Oesophagus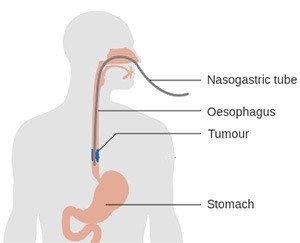 The oesophagus is the first section of the gastrointestinal tract. The oesophagus is a pink 20cm muscular tube that extends from the throat to the stomach. It runs down behind the windpipe and heart and in front of the heart.
How The Oesophagus Works
The oesophagus has one core function which is to transfer food, liquids, and saliva from the mouth to the stomach. Using different layers of tissue in the oesophagus (mucosa and muscle) food is moistened and pushed into the stomach.
Disorders Of The Oesophagus
Diseases and conditions of the oesophagus and stomach require advanced diagnostics, and Dr Kuzinkovas can advise and explain effective treatment.
Swallowing - Achalasia
Gastroesophageal Reflux (GERD)
Infection
Injury
Obstruction
Hernia
Oesophageal Cancer
Oesophageal Cancer
Oesophageal cancer is cancer arising in the oesophagus. Cancers in the upper and middle part of the oesophagus tend to be squamous cell carcinomas. These develop from cells that make up the inner lining of your oesophagus. Cancers in the lower part of the oesophagus tend to be a type called adenocarcinoma. These cancers start in gland cells.
Causes Of Oesophageal Cancer
80% of oesophageal cancer sufferers over 60 years old and most are men.
The causes of oesophageal cancer are linked to lifestyle and environmental factors, some factors that are associated with increased risk of Oesophageal Cancer are:
Smoking tobacco
Excessive alcohol
Obesity
Unhealthy diet
Medical conditions
Barrett's oesophagus
Achalasia
Helicobacter pylori infection
Prior cancer treatments
Tooth loss
Human papilloma virus
Symptoms Of Oesophageal Cancer
Difficulty swallowing (dysphagia) - pain or a burning sensation when swallowing, or your food may stick in your throat.
Acid indigestion or heartburn - indigestion when acid from the stomach goes back up (refluxes) that is persistent or last more than 3 days or if the stomach becomes inflamed or irritated.
Weight loss - If swallowing pain or heartburn symptoms cause lose weight.
Food coming back up - when food comes back up soon after you swallow it.
Pain in your throat or behind your breastbone - You may feel pain in the centre of your chest, or more rarely in your back or shoulder. This can get worse when you swallow or have indigestion.
Hoarseness - Your voice can become raspy or croaky.
Chronic cough - A cough that won't go away or that happens when you try to eat
Coughing up blood - You may cough up blood or have blood in your vomit
Dark faeces - darker or almost black stools
Oesophageal Cancer Diagnosis
An endoscopy test is used to diagnose oesophageal cancer. Endoscopy involves the use of a flexible tube to examine the oesophagus. The procedure is commonly undertaken if Dr. Kuzinkovas suspects that you have a problem and a clear image is required. The endoscope can clearly show oesophageal ulcers, cancer, inflammation or other abnormalities. Where the use of an endoscope in not an option a "barium meal" (white liquid) can be used. After absorbed oesophageal abnormalities show up when viewed by x-ray.
Tests After Diagnosis
Once a diagnosis of oesophageal cancer is made further test will be required. These tests are required to more clearly define the cancer's:
size
position
stage
spread
These test may include:
CT scan
Endoscopic ultrasound (EUS)
PET-CT
Laparoscopy
MRI
These tests and scans help diagnose the cancer. These tests do not always answer with certainty what stage the cancer is, only after surgery can further answers be found.
Stages Of Oesophageal Cancer
The stage of a cancer tells you how big it is and how far it's spread. It helps Dr Kuzinkovas decide which treatment is needed. The stages of means the oesophageal cancer or tumour is:
Stage 1 - within the oesophageal tissue
Stage 2 - grown into the wall of the oesophagus
Stage 3 - moved to the outer oesophageal wall
Stage 4 - expanded to one or more organs or structures near the oesophagus: ametastasized to the lungs, heart or rib cage tissue or metastasized to the windpipe, spine or major blood vessel
Other important measurements used to determine the progression of the cancer are:
the spread to lymph nodes
the extent of metastasis
the grade or cell patterns under a microscope
A patient's treatment and survival rate for oesophageal cancer is largely dependant on the cancer's stage, Dr Kuzinkovas can advise after diagnosis and surgery.
Surgery For Oesophageal Cancer
Surgery removes the cancer, sometimes along with part of the oesophagus and other affected tissue. A cure for oesophageal cancer is sometimes possible through surgery. Dr Kuzinkovas can offer various operations dependant on:
Where your cancer is
The stage
The type of oesophageal cancer
The grade
A patient's general health and fitness
Some surgical approaches include:
Endoscopic Mucosal Resection – Very early-stage cancer is removed through an endoscope. This can be a day procedure with fast recovery
Oesophagectomy – The affected oesophageal sections are removed, and where necessary parts of the upper stomach, lymph nodes and other tissue. The oesophagus is then reconnected to the gastrointestinal tract.
Risks Of Oesophageal Surgery
As with any major operation, oesophageal operations has risks. Surgical somplications may include:
infection
bleeding
blood clots
damage to nearby organs or
leaking from the connections between the oesophagus and connecting tracts.
Dr Kuzinkovas will discuss any concerns you may have before any procedure.
Postoperative Recovery
Several tubes may be used after surgery. These can include an intravenous (IV) drip to replace your body's fluids until you are able to drink and eat again. Oesophageal cancer surgery can be complex and may require several temporary tubes and lines for nutrition and other purpose. You will probably be taught breathing or coughing exercises to help keep your lungs clear. This is so you don't get pneumonia, a common risk of oesophageal surgery. A typical admission is anywhere from 3 days to 7 days.
Expect some pain and discomfort for several days after your operation.
Pain management may be required (opioid and paracetamol analgesia)
Liquids and a light diet will commence when appropriate
Tiredness, discomfort and some bowel irregularity are common complaints whilst the body repairs itself and readjusts to the new arrangement of the bowel. These feelings may last for several months. Those people in paid employment may be back at work within four weeks, but for some others it may be longer. If chemotherapy or radiotherapy treatment is necessary this can be arranged around work commitments.
Postoperative Care Plan
Patient will need to see Dr Kuzinkovas at 3-6 weeks post-operatively to check on you progress. Further, Dr Kuzinkovas will discuss your follow-up plan. Your Care plan will involve:
regular appointments every 1-3 years
blood tests to test for cancer recurrence
a colonoscopy one year after your operation
a CT scan of the abdomen & pelvis every 1-2 years (initially)
Most people are ready to go home 7–10 days after the operation to remove the stomach, and about 10–15 days after an oesophageal cancer operation.
Schedule A Oesophageal Cancer Surgery Consultation
Advanced Surgicare provides three weight loss clinic locations to serve you in Kogarah, Campbelltown and Bella Vista which allows a short trip for anyone seeking bariatric surgery services in Penrith, Camden, Blacktown, Castle Hill, Baulkham Hills, Hurstville, Rockdale, Miranda, Caringbah, Harrington Park, and Narellan. To schedule a consultation with Dr. Kuzinkovas, please contact Advanced Surgicare Clinic by calling 1300 551 533.